We are pleased to announce that the Pulsar Company is a direct importer and authorized partner of the Mean Well Company. You can check our references in the manufacturer's official information and at the http://www.meanwell.com/distributors.aspx?s=&c1=13&c2=29 webpage.
Read More
Due to the introduced changes and unfair market practices one of the Mean Well's former partners we would like to inform that the Mean Well Company has never changed the logo and color scheme. To answer many questions, we would like to announce that the Mean Well Company has never produced or distributed batteries.
Any designs similar to the Mean Well logo can lead to customer confusion. Similar design - often confusingly similar to the original - is used for both batteries and power supplies. The official information on the Mean Well Company is available in the attachments below.
Confirmation of the strategic partnership and direct cooperation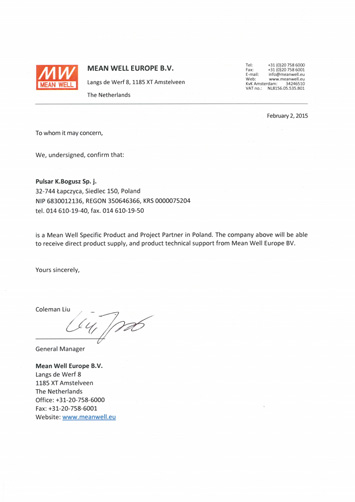 Official Mean Well letter - PL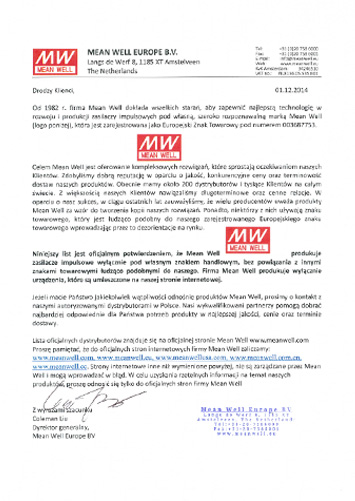 Official Mean Well letter - EN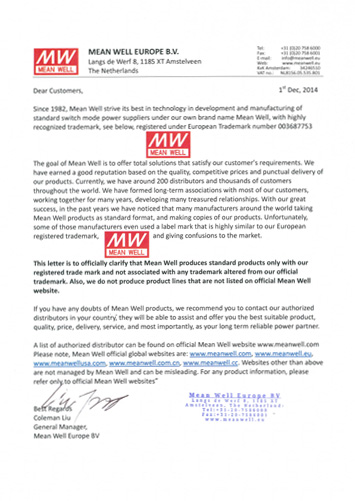 In addition, please pay special attention to Internet domain names. Some of polish domain names contain a trademark of the Mean Well Company. They are not, however, led by the Mean Well Company or its authorized partners. The information contained there cannot be verified by the manufacturer and can be misleading. The only official web pages of the Mean Well Company include:
As a direct partner and a company with suitable technical and storage facilities we are continuously expanding the range of products held in our own warehouses. We offer the full range of products of the Mean Well Company. What is more, importing the products directly from the manufacturer's factory or internal storage allows meeting the customer expectations in a relatively short time. The website contains the most popular models that are in stock. If you have not found a product you are looking for, feel free to contact us by phone or by e-mail. We are pleased to help you.